Guitar effect patches for the Boss ME-50
The ME-50 Guitar Multiple Effects is a floor-based multi-effects processor built with the ruggedness and simplicity of a stompbox. Designed to work with your amplifier, the ME-50 focuses on killer multi-effects (like COSM overdrive and distortion) rather than amp modeling. And dialing in your tone is easy, thanks to dedicated knobs for each effect section, three footswitches and a built-in expression pedal. So if you want great-sounding effects without all the menu surfing, the ME-50 is everything you need.
Shoegazey/My Bloody Valentiney - My Bloody Valentine-esque
Description:
Feel free to crank the distortion up higher, these settings are more akin to the more 80s EP stuff kind of. Also the delay and tremolo are fairly basic so play around with it to your needs.
Contributor:
goose
Date uploaded:
2018-07-03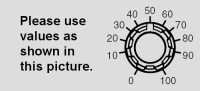 Some older patches may use other ways of displaying values. One is as clock values, 12 is up, 9 or 21 is left and 3 or 15 is right.
Patch parameters:
TONE MODIFY: ENHANCE
COMPRESSOR:
Sustain:
Level:
NOISE SUPRESSOR:
Threshold:
20
REVERB: ROOM
Level:
10
OVERDRIVE/DISTORSION: RAT
Drive:
50
Bottom:
60
Tone:
75
Level:
50
MODULATION: TREMOLO
Rate/Key:
55
Dep/Harm:
50
E.Lev/Res:
50
DELAY: 100-500ms
Time:
60
Feedback:
40
E.Level:
60
PEDAL: WAH
Comments
There are no comments for this patch yet.
Write a new comment:
All patches on guitarpatches.com are made by individual users. Any product name or trademarks used by the users to describe their patches are the sole property of their respective owners. Any use of these product names or trademarks of other manufacturers should not be construed as an endorsement, association or affiliation with guitarpatches.com.